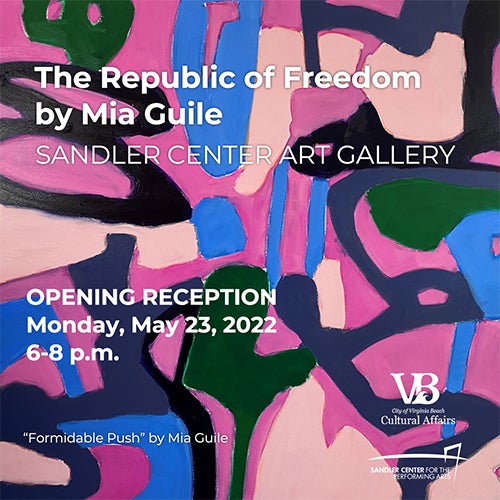 "The Republic of Freedom," by Mia Guile
About the Artists:
The Sandler Center for the Performing Arts, Sandler Center Foundation, and the Virginia Beach Cultural Affairs Department will host an opening reception for "The Republic of Freedom," by Mia Guile, on Monday, May 23, 2022, from 6pm - 8pm in the Sandler Center Art Gallery, 201 Market St.

Guile is a Virginia Beach-based abstract expressionist-style painter. Through color and form, Guile uses oil on large canvases to help her represent what lies in the unconscious.
"My work explores the relationship between color and form, observing the spontaneity of emotions that appear. It is through the compositions of these elements that my paintings construct meaning for me," said Guile. "I want to be in the process and let it go where it goes. To me, that is my freedom, which is an important gift I give to myself."
Guile was an intercontinental citizen before moving to Virginia, and her global trekking has influenced all aspects of her life. Her academic background includes the study of visual arts, postgraduate education in social work, and training in expressive art therapies.
In addition to her work as an artist, Guile is a member of the Virginia Beach Arts and Humanities Commission and the Virginia Beach Public Art Committee, as well as treasurer of the ViBe Creative District Friends Board. She served as a docent for the Virginia Museum of Contemporary Art (MOCA), and as a judge for several juried shows, including the National Scholastic Awards.
Artwork in this exhibition will be on display until September 2022 and is available for purchase. Visit miakatrina.com, or @mia_katrina_guile on Instagram, to learn more about the artist and her work.