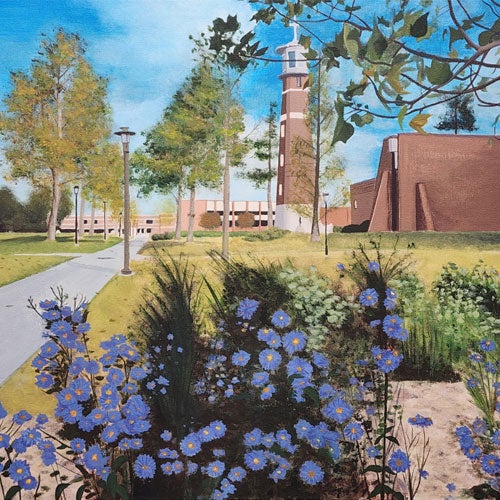 The 2023 Virginia Wesleyan University Student Art Showcase
The Sandler Center for the Performing Arts, Sandler Center Foundation, and the Virginia Beach Cultural Affairs Department will host an opening reception for "The 2023 Virginia Wesleyan University Student Art Showcase" on Monday, Feb. 13, from 6-8 p.m. in the Sandler Center Art Gallery mezzanine lobby, 201 Market St.

The showcase presents artwork by students of various academic majors, but all share an essential artistic spark that is a hallmark of the academic experience at Virginia Wesleyan University (VWU). Featured artwork from beginning drawing and painting courses show various depictions on the theme of campus life.
"Seen individually, or as a group, these images offer an interesting sense of place from the student's perspective," the VWU group's artist statement reads. "This exhibition also highlights work by art majors examining portraiture as a means of addressing the human condition."
A selection of works by students from various other majors highlights the search for an individual creative voice as means for the powerful liberation of the mind that a liberal arts education provides for students moving into various career fields. Overall, this exhibition is meant to highlight the vitality and undeniable force of nature that is seen in the creative production of students at VWU.
Artwork in this exhibition will be on display until mid-April 2023. To inquire about the exhibition and student work, email John Rudel, Director of Undergraduate Research, Curator of Exhibitions for the Neil Britton Art Gallery and Professor of Art at VWU, at jrudel@vwu.edu.