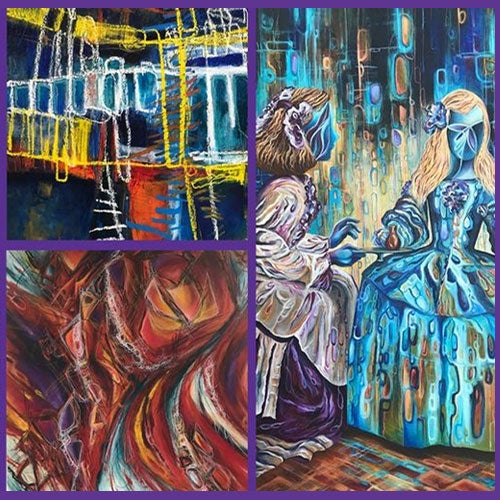 "Imagination Through Color," by Jorge Saenz
About the Artists:
Jorge Saenz is a Nicaraguan American artist based in Virginia Beach. Relying on his architectural background and ever-evolving concept of color fields, Saenz has hand-carved his own niche in the abstract realm, drawing inspiration from prolific artists like De Kooning, Rothko, and Frankenthaler.

A close glance at his work reveals multiple layers of shapes, patterns, and color fluctuations, often completed with translucent drips and asemic writing. Commonly inspired by social causes, Saenz's unapologetic use of various mediums and contrasting color temperatures hint at his romantic approach to abstract art.

"I love color, and I am unapologetic about it," said Saenz. He further explained this exhibition is "a soulful journey of imagination across a vast field of color that unites our hearts and minds into one."

A winner of several art awards, Jorge exhibits in the Hampton Roads area and is working on exhibiting internationally. His artwork is currently at the Virginia Beach Art Center in Virginia Beach, d'Art Center in Norfolk, and The Charles H. Taylor Visual Art Center in Hampton.

Artwork in the gallery will be on display until May 2022 and is available for purchase. Visit www.texturalabstracts.com, @texturalabstract.art on Instagram, or Jorge A. Saenz on Facebook to learn more about the artist and his work.
Artwork in header image (provided courtesy of the artist)
(Bottom Left) RESPECT MY HUMANITY, 2022, acrylic and mixed media on canvas, 58"h x 48"w.
(Bottom Middle) MY BLEEDING HEART, 2019, acrylic and mixed media on canvas, 50"h x 46"w.
(Right) THE VESSEL, 2021, acrylic and mixed media on canvas, 58"h x 38"w.
(Top Middle) BRIDGING THE GAP, 2021, cold wax, oil paint, and mixed media on paper, 32"h x 26"w.