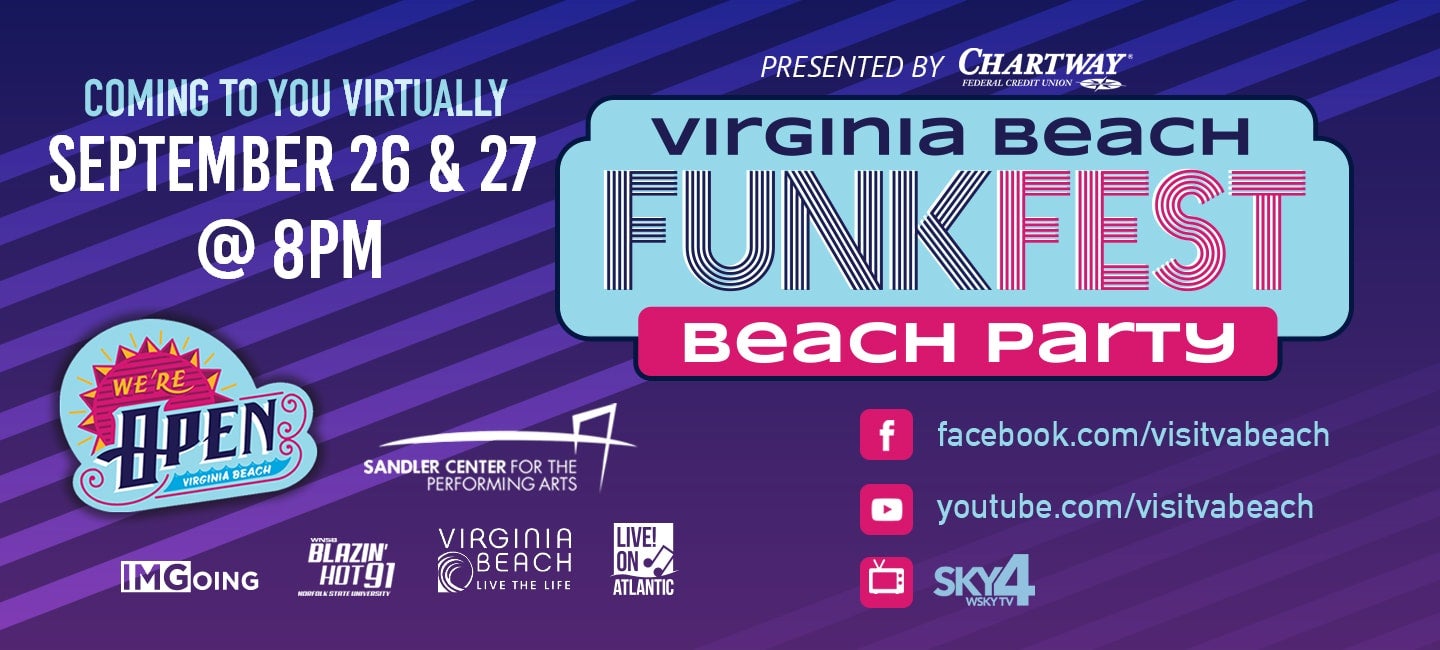 Virginia Beach FunkFest Beach Party
Presented by Chartway - Free Event Held Virtually on Facebook and YouTube
Virginia Beach FunkFest Beach Party
Presented by Chartway - Free Event Held Virtually on Facebook and YouTube
Sep
26
-
27
, 2020
Virginia Beach FunkFest Beach Party
Presented by Chartway - Free Event Held Virtually on Facebook and YouTube
Date

Sep

26

-

27

, 2020

Doors Open

Not Open to the Public
Event Details
The 11th Annual Virginia Beach FunkFest Beach Party presented by Chartway Federal Credit Union is so beloved by thousands of fans that the COVID-19 pandemic can't prevent it from happening again this year. Live! On Atlantic will present this year's festival with a free two-night broadcast event from the Sandler Center on Saturday, September 26 and Sunday, September 27 from 8 PM to 9:30 PM. Shows will broadcast exclusively on YouTube, Facebook, and WSKY.
FunkFest been postponed until Saturday, Sept. 26 and Sunday, Sept. 27. The delayed broadcast is the result of unavoidable technical circumstances related to the COVID-19 pandemic.
How to Join the Concert:
No FunkFest performances will occur on the beach at the oceanfront this year. All concerts will be virtual and online. Live performances from Sandler Center for the Performing Arts in Town Center of Virginia Beach will not be open to the public. Everyone is invited to watch the free online broadcasts from the safely social-distanced comfort of their homes.
Concert Schedule Includes:
Saturday's show features E.U. (Experience Unlimited) and Rose Royce.
Sunday's show features Bar-Kays and The Dazz Band.
The Bar-Kays will perform on Sunday, 9/27. Originally announced, Cameo are unable to perform at this year's FunkFest.
The virtual 11th Annual Virginia Beach FunkFest Beach Party presented by Chartway Federal Credit Union is sponsored by the City of Virginia Beach as part of Live! On Atlantic, and Tito's Handmade Vodka and is produced by IMGoing.
E.U.'s unique blend of "Go-Go Funk," urban, R&B, and soul has made them an extremely popular live band since the 1980's. Their loyal fanbase began following the D.C.-based group with the No. 1 hit "Da Butt" and Top 10 follow-up "Buck Wild." Several additional E.U. records made the Billboard charts. Their songs reached new fans when their tunes were featured in Spike Lee movies and XBox games.
Rose Royce's Grammy Award first record "Car Wash" went platinum. Rose Royce has earned eight gold and five platinum records for "Love Don't Live Here Anymore," "Do Your Dance," "I'm In Love," "I Wanna Get Next To You," and "Wishing on A Star."
The Bar-Kays performed FunkFest in 2018 to one of the largest audiences in the event's history. The band's career of 29 albums includes five gold, a platinum, 40 single releases and 20 Top Ten records. They've been inducted into the Memphis Music Hall of Fame and Beale Street Walk of Fame, have been featured in the Rock 'n' Roll Hall of Fame, and have been invited to perform for the troops in Iraq. The also played President Barack Obama's second inaugural and were featured in a nationally-televised White House tribute to Memphis soul.
The Dazz Band was the first Funk/R&B groups to win a Grammy Award out of Cleveland, Best Performance by a Group or Duo for "Let It Whip." The Dazz Band has released 20 hits on Billboard Chart. They were one of the most popular and frequent acts on Soul Train in the 1980's and 90's.