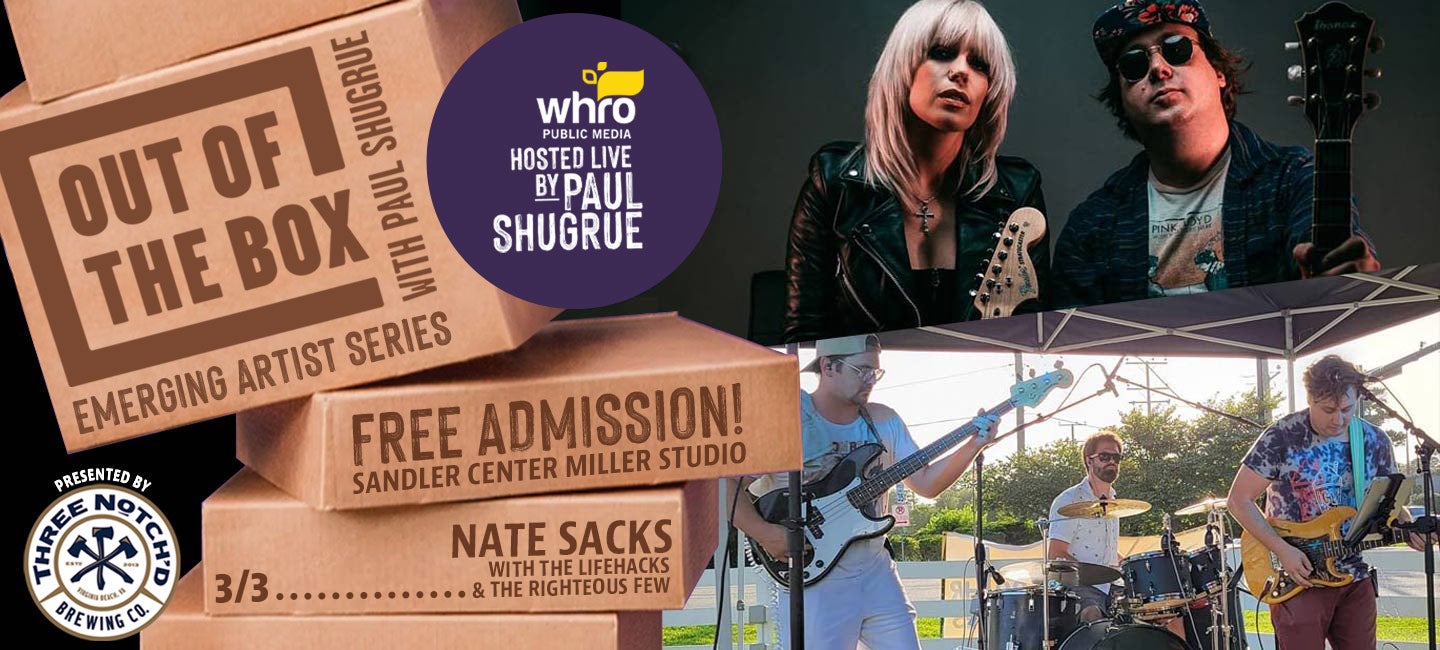 Nate Sacks with The LifeHacks and The Righteous Few
Out of the Box: Emerging Artist Series
Nate Sacks with The LifeHacks and The Righteous Few
Out of the Box: Emerging Artist Series
Mar
3
, 2022
Nate Sacks with The LifeHacks and The Righteous Few
Out of the Box: Emerging Artist Series
Date

Mar

3

, 2022

Event Starts

7:00 PM

Doors Open

6:00 PM
Event Details
Out of the Box is presented by Three Notch'd Brewing Co. Food and drinks are available for purchase. Admission is free. Concerts are standing room only in the Miller Studio Theatre at the Sandler Center, but VIP tables are still available for purchase. Please contact Todd McKeating at tmckeating@sandlercenter.org or call 757.385.2528 with any questions regarding a new or existing VIP table purchase.
---
The LifeHacks is the main project/band of multi-instrumentalist and songwriter Nate Sacks. Following up the "Glad" EP from 2018, The LifeHacks dropped their first full-length album "Oh No!" at the beginning of 2021. Soon after that they released a one-off funky single called "Freaks" and plan to release more music in 2022! Since COVID, the band has taken a break from performing but is ready to get back in the saddle with their high-energy jammed-out alt-rock vibes!

The Righteous Few is a Southern Rock/Roots Rock band from Virginia Beach. Primary writer Nate Sacks found his southern rock muse in frontwoman Maggie DeLaura, and the duo has been writing up a storm ever since. Their single "Hellfire" was recorded and released independently by their own Ratso Records in 2021. The band is gearing up to move operations to Nashville and will put out plenty more of their original brand of southern-kissed rock along the way.
Due to the standing-room-only nature of this event, we encourage all attendees to come vaccinated. Please wear a mask - if you do not have one, one will be provided to you. Thank you for your patience and participation!