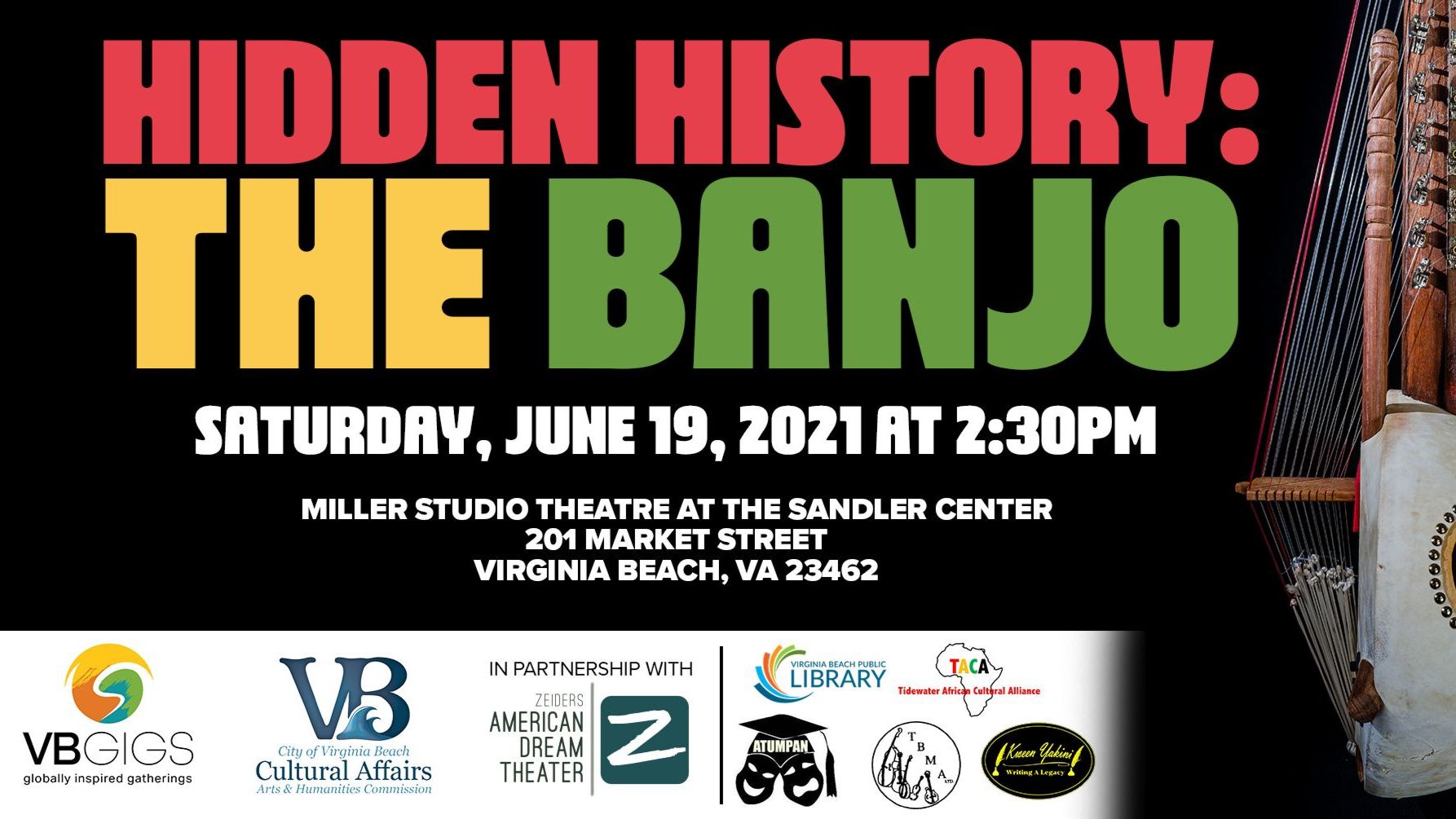 VBGIGS Presents "Hidden History: The Banjo"
In the Miller Studio Theatre
VBGIGS Presents "Hidden History: The Banjo"
In the Miller Studio Theatre
June
19
, 2021
VBGIGS Presents "Hidden History: The Banjo"
In the Miller Studio Theatre
Date

June

19

, 2021

Event Starts

2:30 PM
Event Details
"Hidden History: The Banjo" will premiere on Juneteenth as a salute to freedom through expression and creativity. This FREE 60-minute performance includes an array of music, dance, and spoken word poetry from talented local artists including: Rita Cohen from Tidewater African Cultural Alliance, Corey and LaQuita Staten from Atumpan Edutainment, Bill Armstrong from Tidewater Bluegrass Music Association, Kanya Edmonds and Author Kween Yakini. The event was directed by Brittney S. Harris and produced by the Zeiders American Dream Theater.

Following the performance, WHRO's Lisa Godley will lead a community discussion about African and African American Culture, the importance of reconnecting music to cultural origins, and more.

Learn more at vbgigs.com.
In accordance with current health and safety guidance, guests who are fully vaccinated against COVID-19 will not be required to wear a mask or face covering while in the Sandler Center. Those who have not been fully vaccinated yet will be required to wear a mask or face covering.
Additional Ticket Information
THIS EVENT IS FREE AND OPEN TO THE PUBLIC. ADVANCED REGISTRATION/TICKETS NOT REQUIRED; ADMISSION WILL BE ON A FIRST-COME, FIRST-SERVED BASIS.