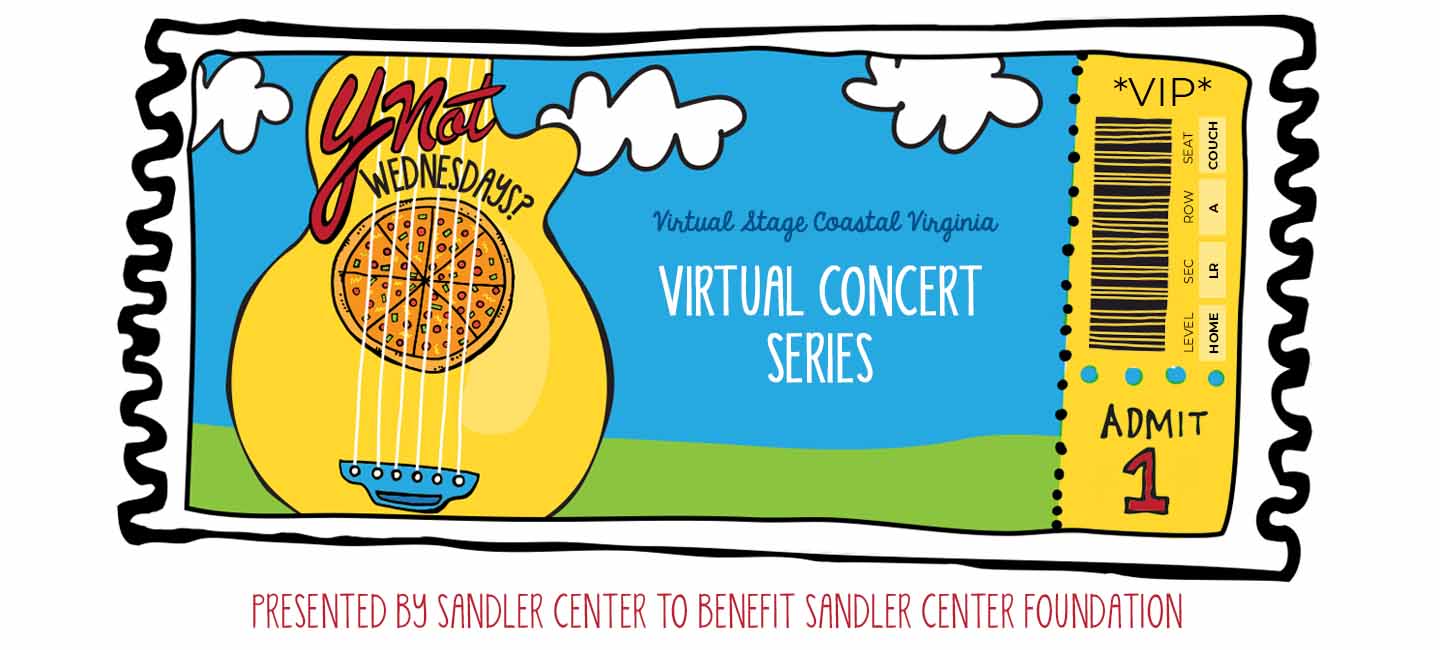 Virtual Ynot Wednesdays Concert Series
Hosted Live on the Virtual Stage Coastal Virginia Facebook Group
Virtual Ynot Wednesdays Concert Series
Hosted Live on the Virtual Stage Coastal Virginia Facebook Group
May
6
-
Aug
5
, 2020
Virtual Ynot Wednesdays Concert Series
Hosted Live on the Virtual Stage Coastal Virginia Facebook Group
Date

May

6

-

Aug

5

, 2020

Ticket Prices

Free From The Comfort Of Your Home
Event Details
The annual free summer concert series, Ynot Wednesdays, is a family favorite in Hampton Roads. Typically the series is held Wednesdays June through August on the Sandler Center Plaza. While we cannot be together during this period of social distancing, the Sandler Center and Sandler Center Foundation have your ticket to great local artists now! We are kicking off the summer series early this year virtually. Join us Wednesday evenings to experience live concerts from the comfort of your home.
Schedule:
May 6: Good Shot Judy
May 13: Anthony Rosano
May 20: Logan Vath
May 27: Chase Payne
This concert is dedicated to support the "Love for VB" efforts in memory of the victims of the tragic shooting and to honor their families. For more information on the "Love for VB" efforts and resources for support, please visit loveforvb.com. We are #VBStrong.
June 3: Dustin Furlow
The June 3 virtual Ynot Wednesdays concert featuring Dustin Furlow has been cancelled in order to keep the focus on the important conversation happening in the community and our country. We will take this time to pause, reflect and unite. The series will pick up June 10 with the Ben Phelps Project. #TheShowMustBePaused
June 10: The Ben Phelps Project
June 17: Gratiot Lake Road
June 24: Rocky 7
July 8: Nathan Dean Band
July 15: Michael Christopher (8-9 PM)
July 22: Ben Rosenblum
July 29: 5Starr
August 5: Delirious George
How To Join:
Become a member of our Facebook Group.
Join the Virtual Stage Coastal Virginia Facebook Group
Click "Going" on the Facebook Event to receive a reminder to join to live stream.
Gather your roommates, pets, and/or family members on Wednesdays and head over to the Virtual Stage Coastal Virginia Facebook Group where you will be able to join the live stream.
Get ready for an hour of fun music from a great local band. Don't forget to order your favorite pizza from Ynot Italian to get the authentic Ynot Wednesdays experience.
Don't have Facebook? You can also join us on this webpage. The video will also be uploaded to our YouTube page after the performance.
Sandler Center YouTube
Thank You, Sponsors!