Join Jon Batiste on the Sandler Center Stage on January 17.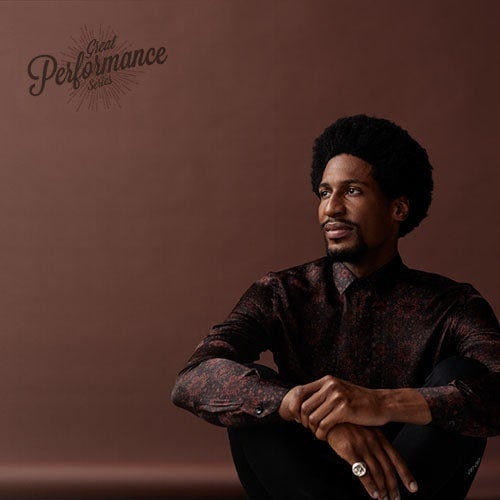 Jon Batiste's music and stage presence are all about audience connection, so much so that he wants YOU on stage with him! It isn't a Jon Batiste show without audience interactions, so a very rare opportunity to purchase seats on stage with the artist is available! Experience the program from the artist's perspective! Jon Batiste's musical skill, artistic vision, and exuberant charisma have made him a triple threat and the newly "crowned prince of jazz." His ability to harmoniously blend jazz with other genres of music and his own personal style has made Jon one of the most influential artists in the music world. Don't miss your chance to be a part of this unexpected, high energy show, as each show is unique and spontaneous with no setlist. Jon Batiste is performing at the Sandler Center on January 17 at 8 PM.
Jon performs nightly on The Late Show with Stephen Colbert as the bandleader while maintaining an active touring schedule. The Sandler Center is one of a select few venues announced so far in 2020 for his touring schedule. While most fans will have to take a trip to New York City to see Jon live, Hampton Road's residents have the opportunity to see him live this week. His style of jazz has been described as electric with a mix of funk, pop, and R&B. Jon's most recent album Chronology Of A Dream: Live At The Village Vanguard peaked the top 10 of Jazz Albums according to Billboard in December 2019. Also, in 2019, Jon was nominated for the GRAMMY "Best American Roots Performance" with "Saint James Infirmary Blues". There is no telling what Jon will accomplish in 2020. Music lovers of all ages will enjoy this energetic show and enjoy Jon's audience interaction. To find out more about Jon Batiste, visit his website at https://www.jonbatiste.com.
This show is presented in collaboration with the Hispanic Leadership Forum and the Virginia African American Cultural Center of Virginia Beach. Tickets for this exclusive event can be purchased at YnotTix.com, by calling 757-385-2787, or visiting the Sandler Center Box Office located at 201 Market Street, Virginia Beach, VA 23462. Tickets for this show are priced at $55, $45, and $35. VIP tickets to sit on the stage are $100. https://www.sandlercenter.org/events/detail/jon-batiste See two spectacular, different styles of jazz shows in one weekend! Patrons who purchase tickets to Jon Batiste have the opportunity to see Arturo O'Farrill with the Afro Latin Jazz Ensemble on January 19 as well. Call the Box Office at 757-385-2787 to purchase our Jazz in January Weekend Package.

ABOUT JON BATISTE: Born into a long lineage of Louisiana musicians, Jon has received both his undergraduate and master's degrees in piano from the Juilliard School. In 2018, Batiste released his first solo album, Hollywood Africans, which was nominated for a GRAMMY award for "St. James Infirmary" and an NAACP Image award for Best Jazz Album. Strongly committed to philanthropy, education and mentoring of young musicians, Jon has led his own Social Music Residency and Mentoring Program sponsored by Chase, as well as hundreds of masterclasses throughout the world. Batiste is currently the Artistic Director At Large of the National Jazz Museum in Harlem and Musical Director for The Atlantic. His accolades also can't go unnoticed - he's been awarded the American Jazz Museum Lifetime Achievement Award, the Harry Chapin ASCAP Humanitarian Award and made the coveted Forbes "30 under 30" list. The cultural icon's personal style has even been profiled in numerous fashion publications including GQ, Vanity Fair, CR Fashion Book, Esquire, and Vogue. To learn more about Jon Batiste, visit JonBatiste.com.

ABOUT ARTURO O'FARRILL AND THE AFRO LATIN JAZZ ENSEMBLE: Known for redefining contemporary Latin jazz and Afro-Cuban jazz, Arturo O'Farrill holds six GRAMMYs for his prolific and enduring recordings. His orchestra's dynamic performances thrill audiences of all ages around the world from the Lincoln Center in New York to the Kannai Hall in Japan. Arturo O'Farrill and the Afro Latin Jazz Orchestra fill the most popular jazz clubs and performing art centers across the globe. Recently named to the faculty of UCLA's global Jazz studies program, Arturo O'Farrill's dedication to educating audiences and preserving jazz heritage for future generations is at the heart of any performance. Arturo O'Farrill and the Afro Latin Jazz Ensemble will perform on January 19 at 7 PM.