Stella Artois presents Saving Our Jobs Virtual Comedy Festival Produced by Spectra Venue Management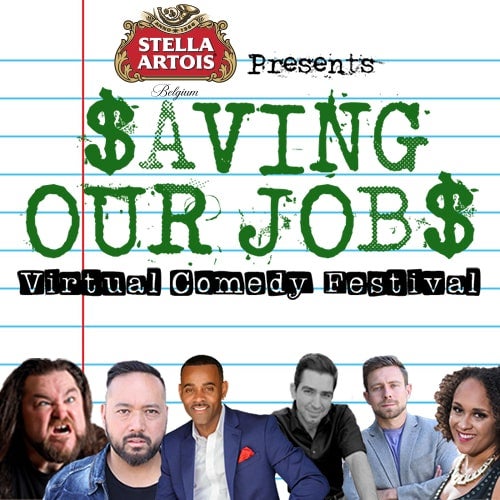 Spectra Venue Management venues all over North America, including the Sandler Center, are hosting the Saving Our Jobs Virtual Comedy Festival presented by Stella Artois. Professional comedians from the U.S. and Canada will participate in an all-day live virtual festival on Valentine's day. With a day chock-full of comedy, this is the perfect virtual show for someone looking for that special date at home or for those anti-Valentiner's looking for ways to avoid the holiday. The show starts on 2/14 at 3 PM and runs until 2/15 around 1 AM. The show is intended for an 18+ audience.
WHEN: Sunday, February 14, 3 PM and runs until February 15 around 1 AM
WHERE: Comfort of your home
PRICES: Watch live for $20 or purchase the full access pass allowing viewing up to one year for $40
TICKETS: Tickets On Sale Now EXCLUSIVELY at http://bit.ly/2Ygu8Md.
The show features Emmy Award-winning comedy writer for the Ellen DeGeneres Show, Adam Yenser; iTunes #6 comedian, Alex Elkin; the voice of everyone and 2019 Voice Arts Award Winner, Justin Rupple; seen on BET's One Mic Stand and touring with Bill Bellamy's Ladies Night Out Tour, Ralph Porter; Canadian funnyman Ron Josol, seen on Kevin Hart's Laugh Out Loud; and Tashona Smith who The New York Times called "Charming, Tantalizing… Confusing"; among others. More professional comedians will be added between now and the event.
"Of all my Zoom meetings that day, I'm looking forward to this one the most," says comedian Adam Yenser of the February 14 show.
We are hosting a local comedy contest! The winner from the Sandler Center contest will have his or her's video clip posted on the comedy festival website. One national winner will be chosen to perform a live set during the festival. To participate, comedians must submit a 5-10 minute video.
Event info, comedian bios, and full comedy competition rules can be found on the Sandler Center website. For more interview requests, please contact Megan Boyle.